CUSTOMER INFORMATION RELATING TO CORONAVIRUS PANDEMIC
We are pleased to announce that we will be reopening on Monday 1st June. We'd like to take a moment to also thank our customers who have been so understanding and patient during this difficult time for us all. Keep safe, from all of the team here at Pembroke Coachworks.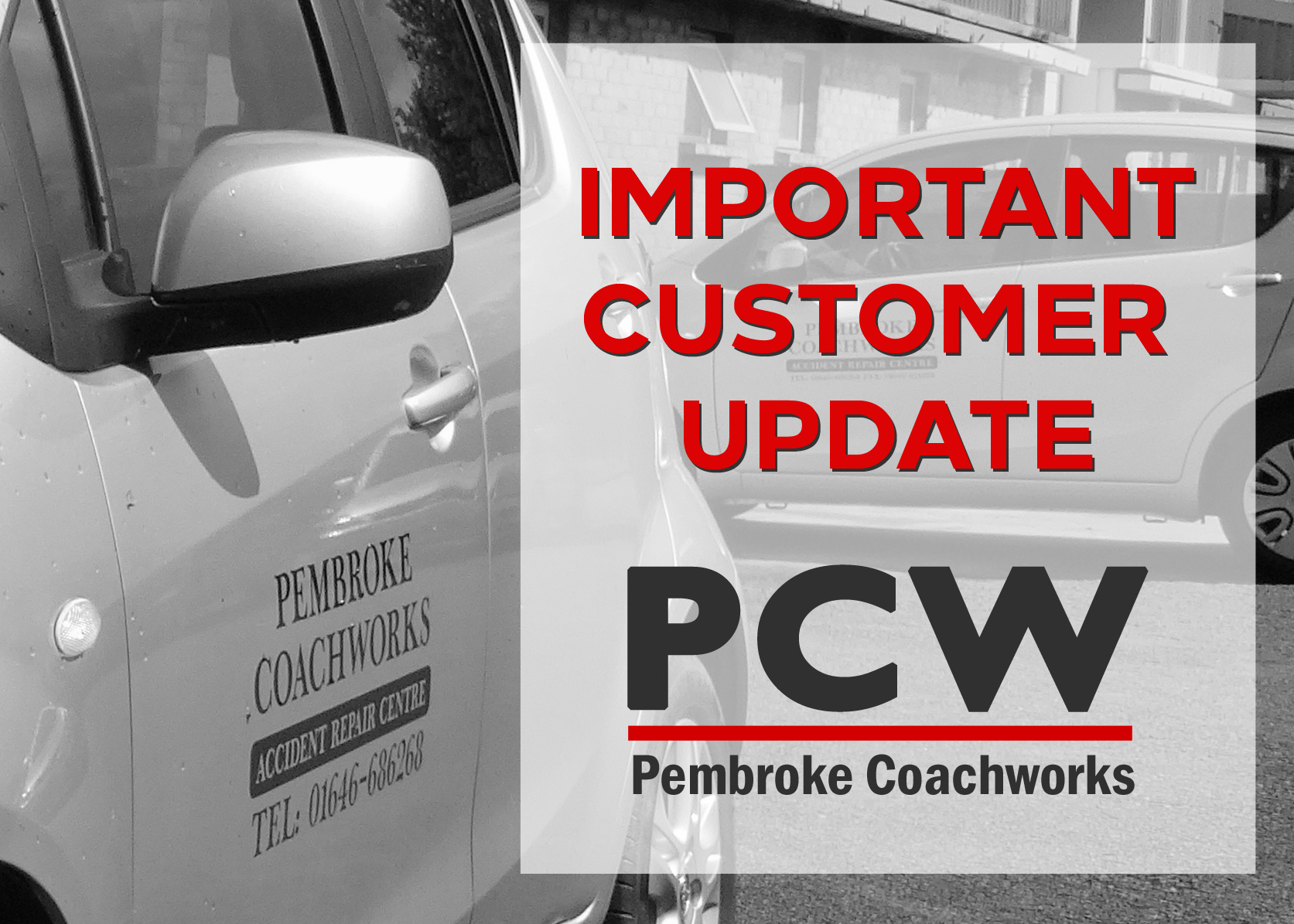 27th March 2020
Dear Customers,
We will be temporarily closed until further notice due to the current Covid 19 situation, closure of many main dealers which is also restricting our parts supply and the Health and Safety of customers, employees and their families.
Although we are closed we can provide an emergency service for serious issues and front line staff only by appointment contacting Mr Haydn Bateman on 01646686268.
We would like to take this opportunity to thank our customers and hope you will be understanding at this difficult time.
We look forward to opening as soon as it is safe to do so.
Stay Safe
20th March 2020
Dear Customers,
We understand that many of you are concerned about looking after your vehicles during this difficult time and recognise that we have many customers who will need to rely on their vehicles during this pandemic.
Rest assured; we are here to help wherever we can. We can be easily contacted on on 01646 686268, alternatively email Caroline on cr@pembrokecoachworks.co.uk. Please take a look at the following information which may clarify what we are able to offer.
▪️WE ARE OPEN
We are open for business but would recommend you call or email us with any enquiries initially.
▪️URGENT BODYWORK REPAIRS
If your appointment is urgent, such as if you urgently require a vehicle to serve the community at this difficult time, then we are very happy to attempt to streamline your repair and adjust our service to you in line with your requirements as best as we can. Please make us aware as soon as possible by contacting us.
▪️PICK UP AND DROP OFF SERVICE
We will be offering a pick-up and drop off service to all customers within the local area (please enquire with us if you are further away and will try our best to assist subject to staffing levels). This will ensure that you do not need to leave your house and will be especially important for those who are elderly or vulnerable.
▪️COURTESY CARS
We have a limited number of courtesy cars and will try our very best to provide these to those who urgently require a vehicle as a key worker and those who are serving the community where a car is vital. As stated, we only have a limited amount of vehicles available so we cannot stress how important it is to alert us to the urgency as soon as possible so that we are able to make provisions.
▪️NON-URGENT BODYWORK REPAIRS
If your appointment with us is not urgent, please contact us and we will be happy to rearrange.
We would recommend that you avoid visiting us for the time being unless urgent, but we'll be here to assist if you do wish to visit. Please do not attend if you are feeling ill as this will put our fellow customers and staff at risk. We are here to help those in need and recognise that for some of our customers, vehicles are essential. We will assist wherever we can to ensure you are kept on the road.
If things change, we will update accordingly so please keep tuned in!
Stay safe,
Haydn and the Pembroke Coachworks Team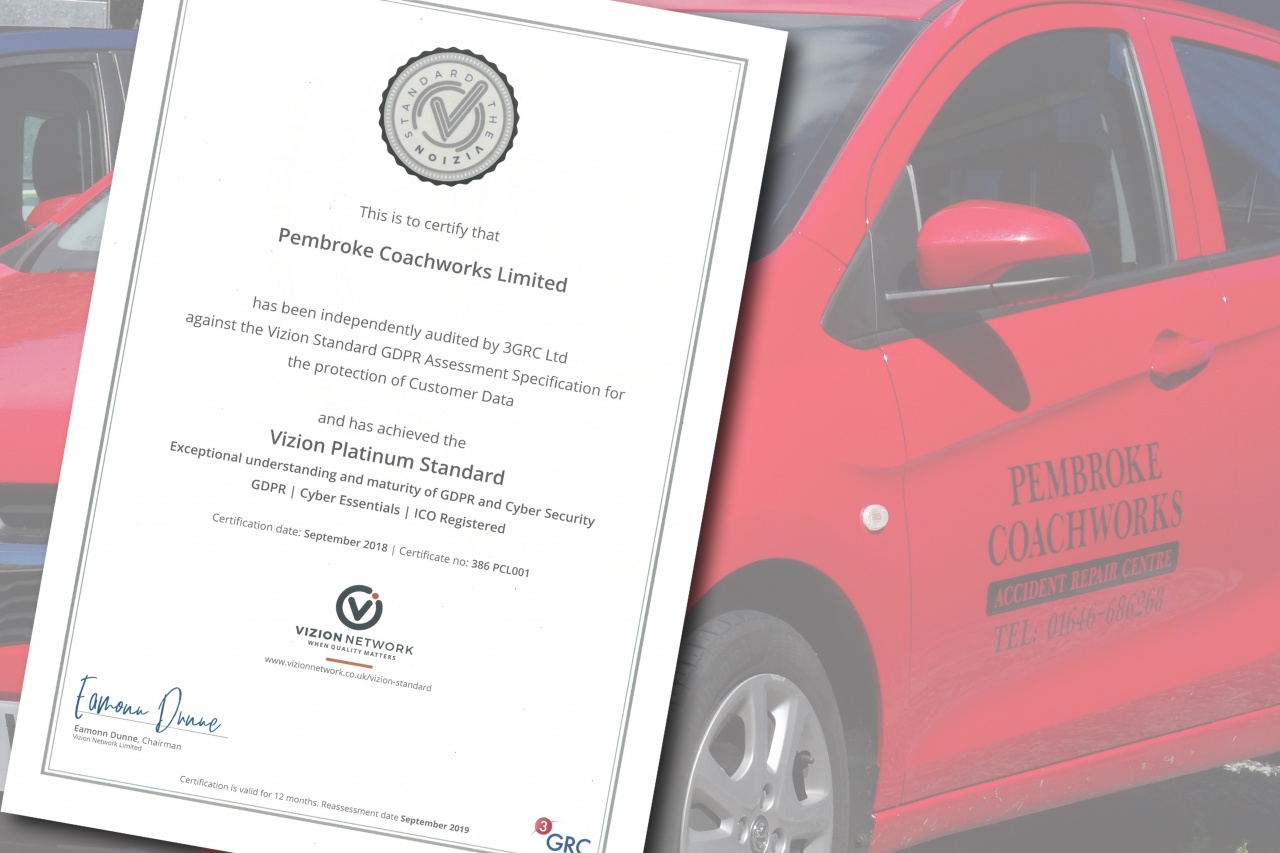 PCW Achieves GDPR and Cyber-security Certification
Great news! Pembroke Coachworks has been independently audited by 3GRC Ltd against Vizion Standard GDPR assessment specification for the protection of customer data and we have achieved the Vizion Platinum Standard.
Posted 09/10/2018.
We are a BS10125 accredited vehicle repair centre
You will be happy to know that we at PEMBROKE COACHWORKS are a BS10125 accredited vehicle repair centre, which is the UK industry standard for regulating the quality of vehicle repairs.
Do you have a bodywork issue big or small that needs fixing? Get in touch and we'll be happy to advise.
We at Pembroke Coachworks are currently seeking the following suitably qualified people to join our company
JOB POSTING 30TH AUGUST 2019
WE ARE NOT ACCEPTING ANY FURTHER APPLICATIONS FOR THE BELOW POSITION, THANK YOU FOR YOUR INTEREST.
The team at Pembroke Coachworks are currently seeking a Driver/Handyperson to join our company.
The role will be based at our business in Pembroke Dock, conveniently located near to the A477 on London Road. We are seeking an enthusiastic person who can work on a flexible part time basis, possibly leading to a full time position.
The role will be varied and we are looking for someone who is a team player and willing to be flexible with tasks in line with the demands of the business. The successful candidate will of course need a full driving licence and the ability of being able to drive our transporter would be of great benefit. The position is customer facing.
For details please apply to Mr Haydn Bateman by email at pembrokecw@btconnect.com and enclose your C.V. Please note we would prefer to receive all applications via email, mail or alternatively feel free to pop in and drop your CV off to us in person.
Last updated 16/09/2019