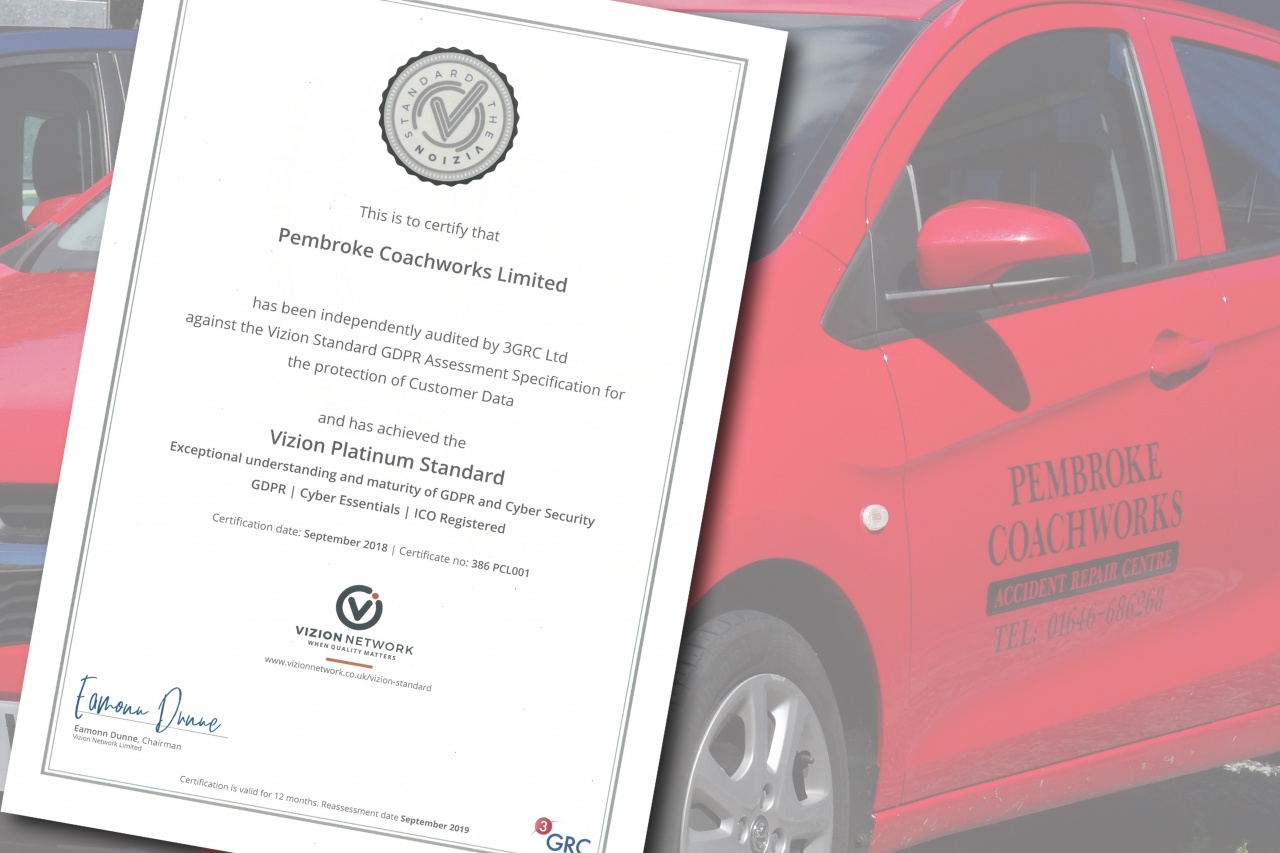 PCW Achieves GDPR and Cyber-security Certification
Great news! Pembroke Coachworks has been independently audited by 3GRC Ltd against Vizion Standard GDPR assessment specification for the protection of customer data and we have achieved the Vizion Platinum Standard.
Posted 09/10/2018.
We are a BS10125 accredited vehicle repair centre
You will be happy to know that we at PEMBROKE COACHWORKS are a BS10125 accredited vehicle repair centre, which is the UK industry standard for regulating the quality of vehicle repairs.
Do you have a bodywork issue big or small that needs fixing? Get in touch and we'll be happy to advise.
We at Pembroke Coachworks are currently seeking the following suitably qualified people to join our company
JOB POSTING 30TH AUGUST 2019
WE ARE NOT ACCEPTING ANY FURTHER APPLICATIONS FOR THE BELOW POSITION, THANK YOU FOR YOUR INTEREST.
The team at Pembroke Coachworks are currently seeking a Driver/Handyperson to join our company.
The role will be based at our business in Pembroke Dock, conveniently located near to the A477 on London Road. We are seeking an enthusiastic person who can work on a flexible part time basis, possibly leading to a full time position.
The role will be varied and we are looking for someone who is a team player and willing to be flexible with tasks in line with the demands of the business. The successful candidate will of course need a full driving licence and the ability of being able to drive our transporter would be of great benefit. The position is customer facing.
For details please apply to Mr Haydn Bateman by email at pembrokecw@btconnect.com and enclose your C.V. Please note we would prefer to receive all applications via email, mail or alternatively feel free to pop in and drop your CV off to us in person.
Last updated 16/09/2019